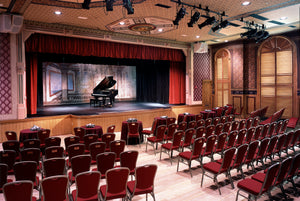 8"x 12" on Hahnemühle Photo Rag Paper
INCLUDES:  Print includes single mat to 12"x16" with 6 ply acid free mat
" The Opera House"
Delphi, IN
2020

The old Delphi Opera House, originally built in 1865, was closed by the fire marshal in 1914 due to the potential danger of people getting trapped on the third flood and only one exit. After the Delphi Preservation Society purchased the building and completed remarkable renovations, the grand facility reopened in October of 2015.
The Grand Ball for the returning troops from the Civil War was the first event after opening. To commemorate that occasion, the Society's first event after reopening was the recreation of the Grand Ball. The next weekend, musical performer/actor Jeff Daniels provided the first performance to a full house. Since that time, many other performances, of a wide variety of genres, have entertained the public in this intimate setting.
When one compares this image to the one I created in 2009, many improvements can be noted: the increased size of the stage, the replicated wall paper, the beautiful shutters covering the original windows, the reproduced medallions on the ceiling, new LED house and stage lighting, a quality sound system, a large retractable screen for movie productions hidden behind the elegant curtains, stylish chairs that can be arranged in many configurations, and a quality wood floor suitable for ballroom dancing. Still remaining is the Lime-light tray and the original back wall with all the old signatures from performers of a past era.
A new 3 story addition to the back of the building, with similar architectural style, more than doubled the entire space. Included in this addition is a large Theater Lobby with restrooms and concessions, additional stairways and a large elevator, dressing rooms for the performers, and a large Banquet Hall on the first floor.
One can almost imagine James Whitcomb Riley, the famous "Hoosier Poet," performing on this stage again, as he did on six other occasions back in the 1800's.