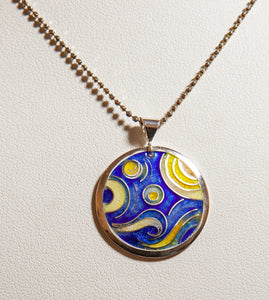 Blues and Yellow swirls evokes the starry night of Vincent Van Gogh.
Glass enamel over fine silver.  Approx. 1" diameter.  
Cloisonné is a metalwork technique that uses small precious metal wires and glass enamels to create beautiful works of art.  I shape fine silver wire onto a fine sliver base to create the small cells of my design.  I then add many coats of finely ground glass enamel into each cell.  Each layer is fired at 1450° until one unique piece of art is completed.