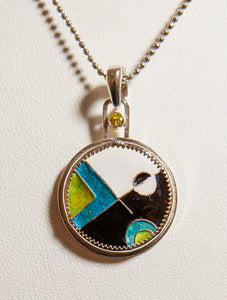 Classic black and white with the brilliance of aquamarine and yellow to make it modern and unique. Enamel glass over fine silver, set in a sterling silver bezel with a gemstone accent.  Approx 1" diameter
Cloisonné is a metalwork technique that uses small precious metal wires and glass enamels to create beautiful works of art.  I shape fine silver wire onto a fine sliver base to create the small cells of my design.  I then add many coats of finely ground glass enamel into each cell.  Each layer is fired at 1450° until one unique piece of art is completed.
This one is sold, but I will custom make on similar for you!  Contact me at cdwaymire@comcast.net to discuss.