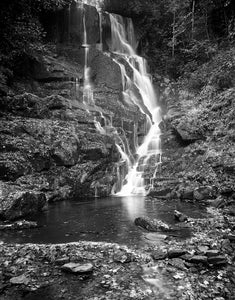 11"x14" Fuji Flex SuperGloss Paper
Double matted to 19"x22" with 6 ply acid free mat
"Eastatoe Falls"
Pisgah National Forest
Rosman, North Carolina
2014

One of the finest waterfalls near the Blue Ridge Parkway is on private property near Rosman. After parking your vehicle off the drive, proceed along the grassy path. Rustic signs point visitors in the right direction. The easy trail takes you past a suspension bridge that leads to a cozy tree house. Imagine sitting there listening to the cascading waters and watching the wildlife! At the end of the 200 yard path, the waterfall takes center stage. Eastatoe Falls has a broken drop of about 50 feet that then courses down to Shoal Creek.