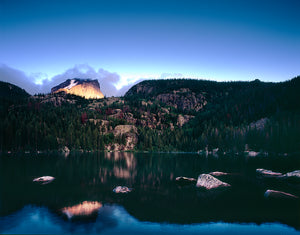 11"x14" Fuji Flex SuperGloss Paper
Double matted to 19"x22" with 6 ply acid free mat
"Morning Glow on Hallett's Peak"
Rocky Mountain National Park
Colorado
2011

Hiking around Bear Lake before sunrise allowed me to get a front row seat to a breathtaking show. There was some cloud cover to the east, not unlike a curtain on a stage, which teases the audience about an upcoming performance. At just the right moment, the clouds drifted apart, and a strong sunbeam showcased Hallett's Peak. Although the Peak was the star of the show, the boulders in the foreground became supporting roles as they appeared to float in the dark, cold waters of Bear Lake.