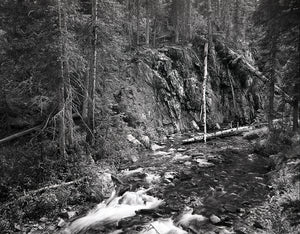 11"x14" Fuji Flex SuperGloss Paper
Double matted to 19"x22" with 6 ply acid free mat
"The Heart of the Rockies"
Missouri Lakes Trail, Holy Cross Wilderness, Colorado
2013

The Missouri Lakes Trail, near Minturn, Colorado, rivals some of the best trails in this part of the country. Beginning at 10,000 feet, a four-mile climb takes one through diverse vegetation. Heavy forest of evergreen and aspens can be found at the lower elevations. Miniature canyons formed by Missouri Creek emerge and the scenes are breath-taking, while a few hundred yards further idyllic meadows filled with colorful flowers and fungi provide a respite from hiking. Nearing 11,000 feet the first of several alpine lakes appear. Enormous rock formations offer a perfect spot for lunch with while viewing the splendor. Mountains are the acmes of the earth, but the rock wall with its many textures represents the heart of the mountain.